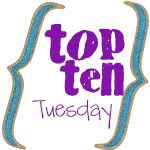 After making last week's top 10 list, I got to thinking about snoballs. A real New Orleans treat, snoballs are made with the finest shaved ice and their frozen sweetness just melts in your mouth! Here are my top 10 snoball flavors (though they are subject to change with my mood!):
Blackberry with condensed milk
Wedding cake
Spearmint
Ice cream
Chocolate with condensed milk
Nectar cream
Orchid cream vanilla
Wild cherry
Coconut cream
Margarita
Head on over to Oh Amanda for more great Top 10 Tuesday lists!