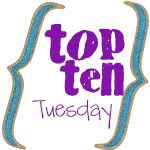 In honor of Top 10 Tuesday and the first day of fall, here is my list of the top 10 things I love about fall:




school and community fairs


FOOTBALL!!!! Geaux Tigers and Saints!


the colors when the leaves change (of course that doesn't happen much here - makes me miss living further north - just a little!)


sleeping with the windows open - thanks to the cooler temps and lower humidity


oyster season!


wearing comfy sweatshirts and sweaters (not yet, though - its still hot today!)


preparing for Thanksgiving and Christmas


finding the perfect pumpkin


my baby boy's birthday!


finding the perfect Halloween costumes
Head on over to OhAmanda for more Top 10 Tuesday!