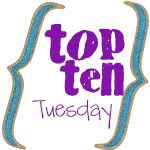 I know its only mid-September, but my 4 year old is already making plans for his Halloween costume. Its the first year we've let him decide how he'll dress, mainly because we don't already have a hand-me-down costume in our arsenal that fits him! So, in honor of Top 10 Tuesday, here are the top 10 costumes that he wants:




Spider-man ("the good one, NOT the bad one," he says)


Wolverine (from X-Men)


A bulldozer


A crane "like at Pawpaw's work"


Batman


A pirate (Captain Jack Sparrow, of course!)


Buzz Lightyear


A monster


Iron Man


"The scary guy from Star Wars" (Darth Vader - I'm not sure how he knows him, since I'm fairly certain he's never seen the movies...)
The best part is that he wants to be ALL of these things, for THIS Halloween! The list gets longer each time a catalog arrives with costumes for sale...
Head on over to OhAmanda for more Top 10 Tuesday lists!