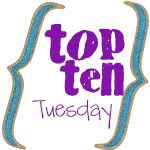 As I was thinking about what to write for Top 10 Tuesday, all I could think about were the OTHER things I should be doing! So, here is my top 10 things I should be doing
instead
of writing this post right now:
Not letting my younger son nap - he'll end up not wanting to sleep tonight!
Finding a great sugar cookie recipe - for the aforementioned younger son's birthday party favors
Speaking of that party, I need to figure out how I'm going to put together his "Wow, Wow Wubbzy" cake
And again regarding his birthday, I need to figure out a present to get him!
Since my mom and aunt are coming into town for his birthday, I really should straighten up the guest room (but they won't be here until Sunday - I've got time!)
On the subject of straightening up, I really do need to get down and dust the baseboards.
I should be folding the sheets that are still sitting in my dryer
Or figuring out what to make for dinner (I usually have it all planned out!)
I have 4 birthdays on my calendar for next week - guess how many cards I've sent (or better yet, purchased)? That's right - ZERO!
I should walk Jake, my big, fat (I say that with the utmost love) yellow lab, and get out and enjoy the 90 degree temps. But how can I do that when baby boy is napping??? ;)
Head on over to OhAmanda for some more Top 10 Tuesday!