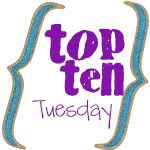 Check out Amanda's blog,
Oh Amanda
, for hers and other's Top 10 lists, but before you do that, check out mine!
Top 10 Reasons I love living in New Orleans:





The food! I've lived other places, and had some good dishes elsewhere, but no other cuisine compares to the flavors you can find in our food!






No snow. Like I said, I've lived other places (namely Delaware, Kentucky, Virginia, and West Virginia) and they've ALL had snowy winters. I've had my share and I'm done - y'all can keep it!






Mardi Gras. I've done the over-the-top drink-all-day-and-all-night Mardi Gras, but now that I have kids, its changed - for the better! I absolutely LOVE watching my sons at the parades, sitting in their ladder seat, giddy with anticipation for the next float to come by and beam them with scores of plastic beads. Can't forget the yummy king cakes, either.






Jazz Fest. If you've never heard of or been to

Jazz Fest

, you

must

check it out! It's the last weekend in April and first weekend in May every year. There are HUNDREDS of musical acts, tons of arts and crafts for sale, and you can eat yourself silly through the grounds.






Snoballs. Real New Orleans snoballs. Not "snow cones" or "ices". A real snoball has the finest, fluffiest ice that I've yet to find anywhere else.






The architecture. I love driving through some of the local neighborhoods to gaze at the intricate details found on so many homes, and to imagine what many of them were like in their prime. And where else will you find the crazy colors you find on some of these "painted ladies"???






Magnolia trees. In May and June when the magnolias bloom, I just can't get enough of their scent wafting through the (humid and sticky) air.






Crawfish boils. It's hard to beat a spring afternoon with a sack of crawfish and veggies boiling in the backyard. Mmmmm... boiled mushrooms and artichokes... can't wait for spring to come back around!






Parades for anything and everything! If there's something to celebrate, there's probably going to be a parade: Twelfth Night, carnival, Mardi Gras day, St. Joseph's Day, St. Patrick's Day, Easter, Labor Day, Halloween... you name it, you can probably find a local parade - with elaborate floats and throws! (Hey! It's Tuesday. How about we parade?")






Je ne sais quoi - there's just something about New Orleans that captivates you and makes you keep coming back. Come visit and see for yourself!